Jesús Carmona & Lucía Campillo: Valencia Endanza incorporates Flamenco
National Dance Award 2020, Jesús Carmona and Lucía Campillo will teach Flamenco at the intermediate and advanced levels of the Spanish Intensive
Valencia Endanza widens horizons in its desire to provide the best possible offer and to complete the training you receive in your conservatories. As a novelty, we have decided to incorporate Flamenco into the Intensive Spanish II and Spanish III. Just after the first decade of its designation as Intangible Cultural Heritage of Humanity by Unesco, Flamenco will keep to supporting and enriching your studies in the field of Spanish Dance.
And what better way than to have some exceptional godparents: the former first dancers of the National Ballet of Spain Lucía Campillo and Jesús Carmona, distinguished with the 2020 National Dance Award in the category of Choreographic Creation.
If you want to get a brief brushstroke on their careers, we invite you to read an excerpt from their biographies at the bottom of the news. And as always, we invite you to stay tuned to our social networks through which we will keep you informed about the news of the 12 bis edition of Valencia Endanza.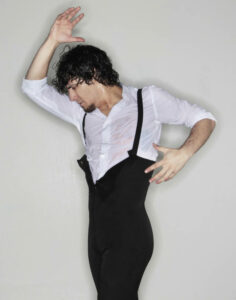 A brief note about Jesús Carmona, 2020 National Dance Award…  
Born in Barcelona, ​​Jesús Carmona is a dancer, creator and choreographer graduated in Spanish Dance and Flamenco from the Institut de Teatre. He trained in Flamenco with teachers such as Antonio Canales, Eva Yerbabuena, Manolete, María Magdalena and Güito. In 2005 he joined the National Ballet of Spain, being promoted to the category of first dancer two years later. As a choreographer, his debut feature, The Silence of the Moon, dates from 2006. In 2010 he left the BNE and returned to direct his own projects a year later. As a result of this, he has created Cuna Negra & Blanca, 7 balconies, Ímpetu's, Equilibrio, Amator, The Game and El Salto. Best Outstanding Dancer of the XX Spanish Dance and Flamenco Contest of Madrid in 2011, in his list of honors the Desplante Award at the 52nd International Festival of Cante de las Minas de la Unión, two Latin UK Awards, the 2019 El Ojo Critical Dance Award of Radio Nacional de España, and the National Dance Award 2020, in the category of Creation.
 A brief note about Lucía Campillo…
Trained at the Professional Dance Conservatory of Murcia and the Royal Conservatory of Madrid, Lucía Campillo completed her studies with great teachers such as Merche Esmeralda, José Antonio, Antonio Canales, Javier Latorre, Milagros Mengíbar and Maribel Gallardo. She began his career at the Antonio Gades Foundation in shows such as Carmen, Bodas de sangre, Suite Flamenca and Fuenteovejuna. Between 2010 and 2013, she was part of the National Ballet of Spain -first as a soloist and then as a prima ballerina-, under the direction of José Antonio and Antonio Najarro respectively, performing in the most important theaters in Spain and the world. She has collaborated as a guest artist in the companies of Jesús Carmona (Cuna Negra and Blanca, participating in prestigious festivals such as Jerez or the Seville Biennial), Rojas & Rodríguez, María Pagés, an activity that she has combined with performances in important tablaos such as Casa Patas, Corral de la Morería, Tablao Flamenco Cordobés.